Products | Power Wheelchairs
Power chairs are designed to maneuver inside and outside the home, especially in tight spaces.
Small turning radius for hallways, bedrooms and kitchens.
A stable center of gravity for balance.
Joystick controller makes the chair easy to navigate.
Range of 12-18 miles on one charge (depends on terrain, user weight, model of chair).
Most chairs come with solid tires without air so there's no possibility of getting a flat.
Easy transfers to and from a bed, toilet or bathtub.
You can pull straight up to dining tables, kitchen tables or a desk.
Other models available
Standard Power Wheelchairs
Heavy Duty Power Wheelchairs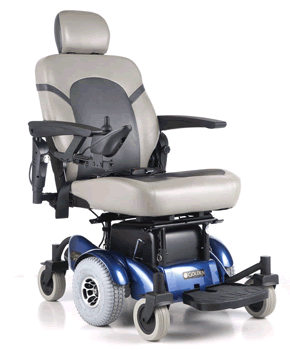 Golden Compass HD
Weight Capacity 300-450 lbs
27" overall width
Mid wheel drive
10" drive tires and 6" rear casters
20"x20" standard seat with semi-recline
Good for smooth or uneven surfaces
Max seat size 24"x20"
View specifications
*Some area restrictions may apply. Call for your specific area.
**May require extra medical documentation, certain type of insurance coverage, minimum patient weight, larger doorway and home environment layout or other restrictions may apply.